For lovers of water activities Gozo is an absolute paradise. For starters, it is probably the best place in Europe for scuba diving with jaw-dropping sites suitable for everyone, from novice to expert.
The best snorkeling sites include San Dimitri Point in western Gozo, Wied il-Għasri in northern Gozo and the famous Blue Hole at Dwejra, a 25-metre deep hole that connects with the sea eight metres down through a submerged arch. For colourful sea life try Reqqa Point in northern Gozo or Xatt L'Aħmar in southern Gozo.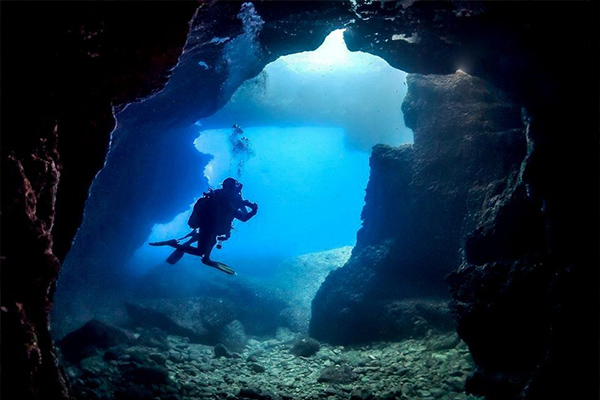 Scuba Diving
Gozo have some of the most accessible and best dive sites in Europe. Dive sites are generally accessed from shore and warm summer water temperatures, visibility in excess of 30m and a huge variety of sites from arches, cracks, caverns and wrecks means each day will be another great dive adventure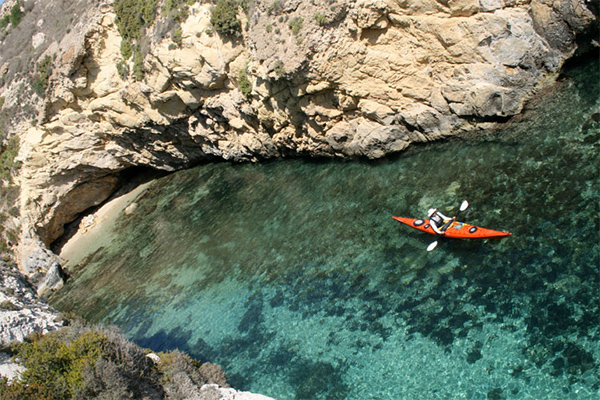 Kayaking
Kayaking is a great sport for any beginner to learn. Like cycling, it's relatively simple to pick up. Within a few hours you'll be paddling along happily. There are so many different types of kayaking – from flatwater kayaking to sea kayaking and whitewater kayaking.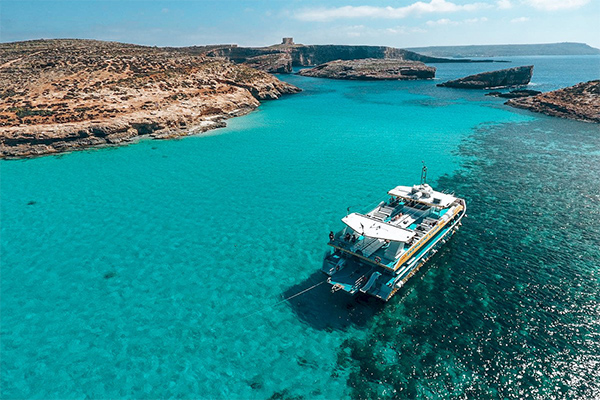 Boat Rides
Relax and enjoy the beauty of Gozo while cruising the Mediterranean on a fun boat excursion with Outdoor Explorers Malta. Whether you would like to keep things simple by enjoying a nice, soothing day on the water or feel more adventurous and want to explore Gozo, blue lagoon boat tours give you the best of both worlds.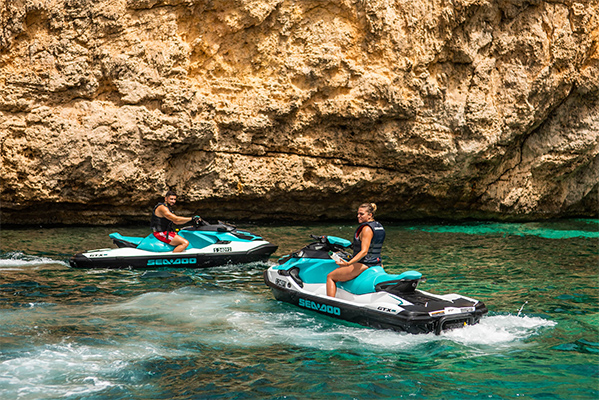 Jet Skis
A jet ski is one of the most popular and fun recreational vehicles you can find. Jet skis give you the chance to fly over the water like never before. Great for practising your balance and coordination, jet skis can help develop your leg muscles.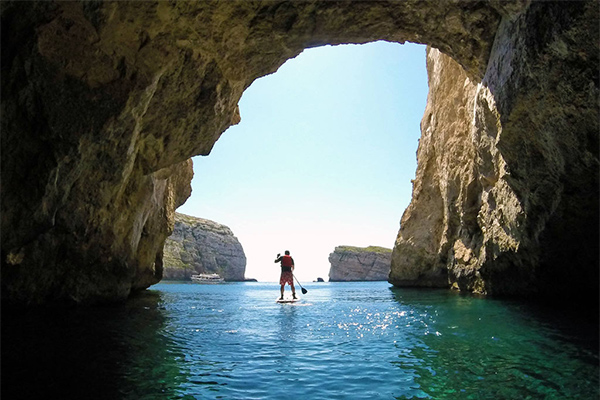 Stand-up Paddleboarding
Why is stand-up paddle-boarding so popular and fiercely loved? Because it's equally great for body, mind, and soul. In short: SUP makes you healthier and happier. And if you're already a SUP enthusiast, you know it makes you feel awesome.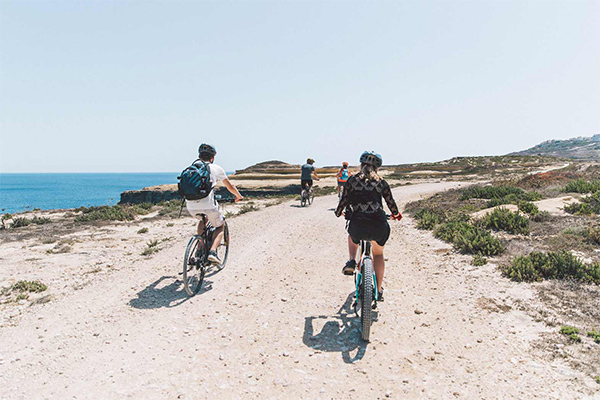 Despite having only three hills, the highest of which is a mere 190 metres above sea level Gozo cycling offers a surprisingly wide variety.Riders can choose between pleasant tranquil days biking through sleepy villages and little towns on countryside roads practically empty of traffic with lovely views over the hidden valleys of the interior ablaze with wild flowers in spring, or opt for the heart stopping adrenalin rush of steep stony mountain bike trails along the coast with sheer cliffs falling away to an azure blue sea. The best time for Gozo cycling is between October and May, when temperatures are balmy and never too extreme, and with sunshine practically guaranteed every day. In winter, it may rain, but rarely for more than a few hours. In summer temperatures can get up to 35 degrees Celsius, but the cool of early morning or evening are still excellent times to cycle, with of course the extra bonus of being able to cool off with a swim during the heat of the day. The island's principal roads can be busy in the peak months of July and August, with tourists from both Malta and mainland Europe but for off roaders the country trails tend to be as empty in summer as they are in winter.
Rock Climbing & Abseiling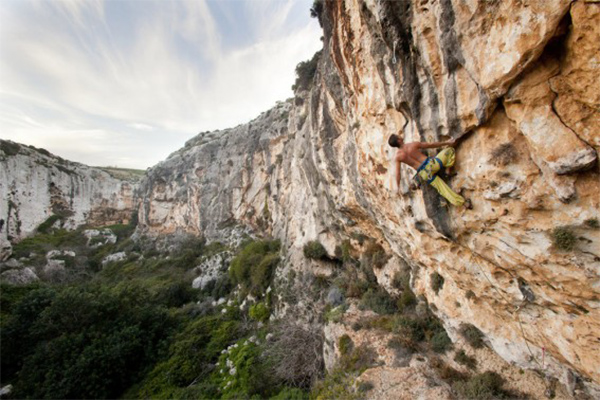 Normally you would not figure that Gozo is a rock climbing destination. But Gozo is an undiscovered heaven for rock climbers.
Located in the middle of the beautiful Mediterranean Sea it offers plenty of rock. Cliffs girdle virtually the entire Northwest coasts and there are also stretches of inland cliffs; together, these offer all grades of climbs, from moderate to very technical.
The limestone rock, washed out by millenia of rainfall, has steep walls and overhangs which provide excellent routes and invite climbers to go to ther limits.
A full-day jeep safari is one of the best-rated tours in Gozo which allows you to explore the hidden gems of the island stress-free.
On these all-day tours, you get picked up and led by a guide, and lunch is usually included in the price. There are many other tour options; whether it's with a segway or a quadbike, you're guaranteed a fun time.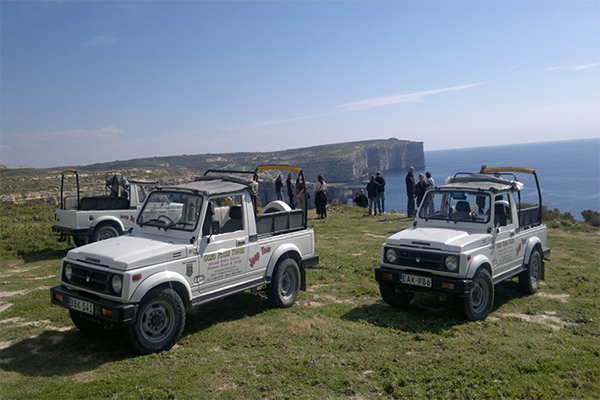 Jeep Safari
The best way to get to know Malta's neighbouring island Gozo is an extensive jeep safari. There are 2 options to choose from: a 7 hour jeep tour around the island with driver, sightseeing and lunch or a 4-hour safari along coastal paths and rough island trails with stops in places really worth seeing.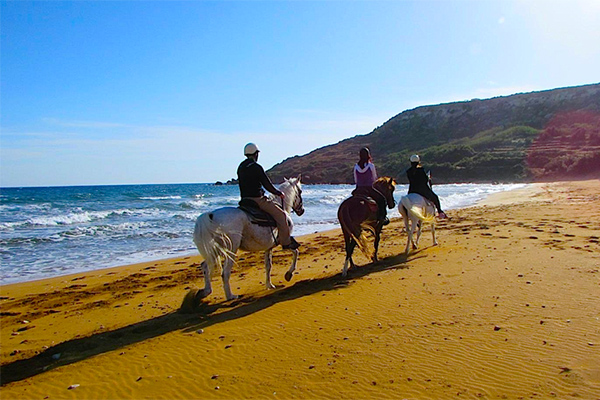 Horse Riding
Horse riding is an exhilarating, fun and different way to experience the unspoilt countryside of Gozo. Whether you are a beginner or an experienced rider, horse riding stables can provide you with a suitable horse and a beautiful ride.
If the above does not appeal to you, you might want to get walking instead. In Gozo, we're lucky that a good walk is never far, and the views are often spectacular.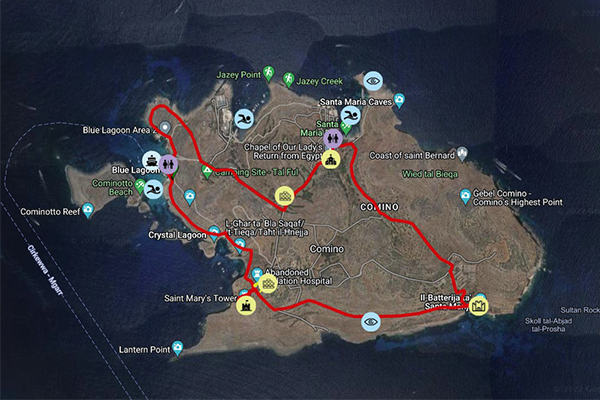 Comino Walk
Kemmuna (Comino) and its islets, a highly protected area of a bit less than 3km² form part of the municipality of Għajnsielem Gozo. Historically a preferred hideaway by corsairs, Comino is now a haven for birds and tranquillity — hunting is not allowed, nor are vehicles other than those used by the resident population or by hotel staff. The Blue Lagoon is the most popular site among day trippers — it can get quite crowded on sunny days as early as May but otherwise few people venture along the coast or into the heart of Comino.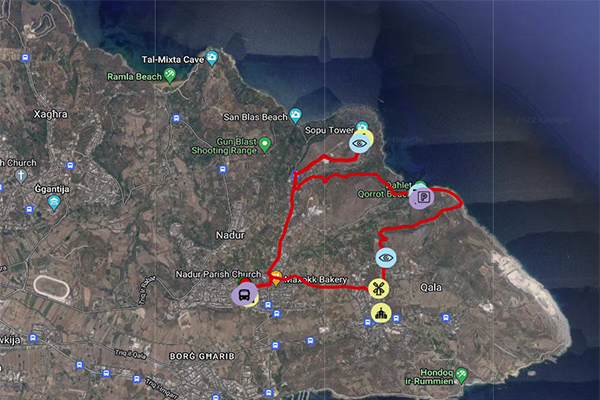 Daħlet Qorrot Walk
This circular walk starts and ends in In-Nadur. It leads from In-Nadur to the plateau of Il-Qortin Isopo where, towards the sea you can see the Ta' Sopu Watchtower surrounded by wonderful garrigue terrain known for its wild rock roses and endemic Maltese spurge.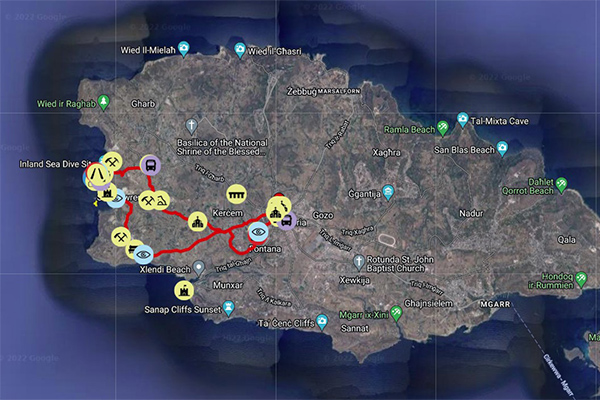 Dwejra Walk
Starting and ending at Victoria this walk takes you to the westernmost coast of Gozo to the scenic Dwejra Heritage Park – a haven for geology and ecology enthusiasts or simply anyone enjoying natural views. Amongst the highlights here are the historically famous Fungus Rock and its sentinel – the Knights' coastal watchtower, the sculpted 40 meters high natural arch known as the Azure Window, the unique Inland Sea with boat trips taking visitors through a natural tunnel, and many more.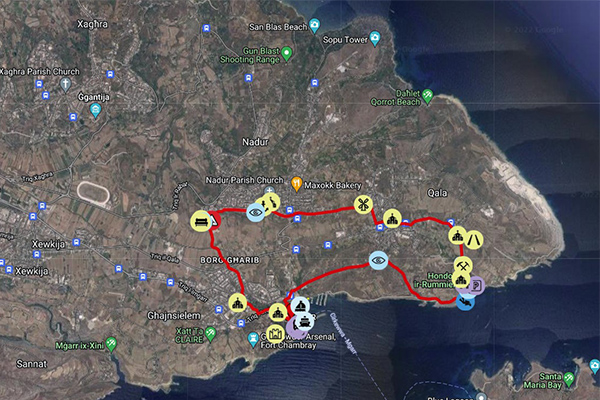 Ħondoq ir-Rummien Walk
A walk that takes you to Xagħra's heritage sites including the ancient temples at Ggantija, Calypso's Cave, and more.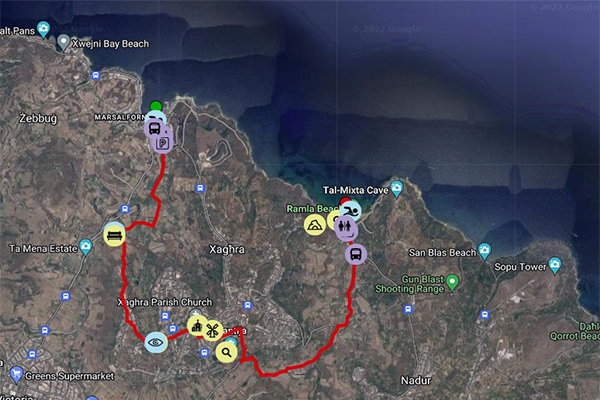 Ramla Walk
This walk starts from Marsalforn Bay, passing through the village of ix-Xagħra, and ends in Ramla Bay. Taking the walker through a typical Gozitan valley behind Marsalforn Bay where traditional agricultural methods may be observed, the route leads through the picturesque village of ix-Xagħra where you can admire Marsalforn Bay on one side and Ramla Bay on the other.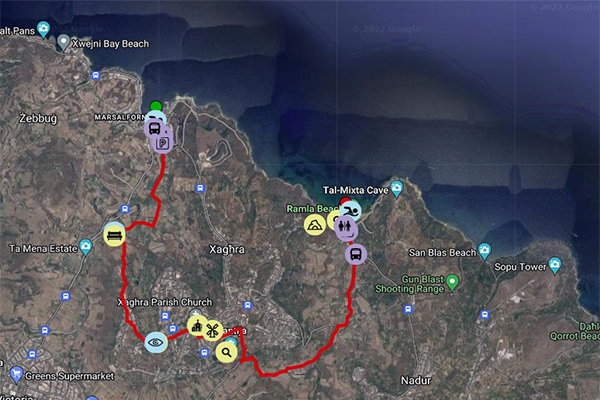 Saltpans Walk
This circular walk starts and ends in Victoria, the main town of Gozo. From here the walk proceeds to the breathtaking 'Sara valley'. After visiting Gozo's oldest basilica, the walk continues to 'Wied il-Għasri', a valley flanked by high cliffs, and then to the sea.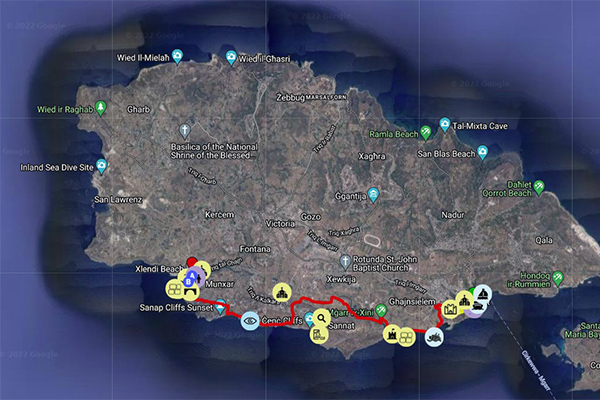 Xlendi Walk
From southeast to southwest this route takes you from L-Imġarr Harbour to Ix-Xlendi Bay taking in the lower lying coast at Xatt l-Aħmar to the fjord-like bay of Mġarr ix-Xini past its coastal Tower standing guard since the time of the Knights of St. John. The walk proceeds up to the higher grounds of the village of Ta' Sannat perched close to the edge of the majestic vertical cliffs of the southern coast. The clifftop route enjoys the best views of this wild landscape before turning slightly inland within the confines of Munxar down to Ix-Xlendi Bay.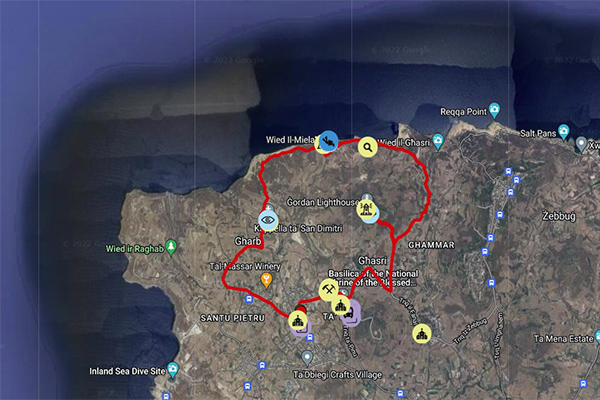 Ta' Ġurdan Walk
This circular walk starts and ends in the village square of L-Għarb.
The road running down the left-hand side of the church leads to open countryside, passing the "St. Dimitri Chapel" and affording good views of "Ta' Ġurdan Lighthouse" and "Ta' Pinu Sanctuary". The valley of "Wiedil-Mielaħ" is reached after a nice walk along the coast. The hilly features of the island and the view of the vast expanse of sea stretching beyond the steep cliffs are best enjoyed from the top of Ta' Ġurdan Hill.